GERMANY'S WILD EAST - In the land of crane, wolf and eagle

GERMANY'S WILD EAST - In the land of crane, wolf and eagle (only available in German:
DEUTSCHLANDS WILDER OSTEN
Im Land von Kranich, Wolf und Adler)
Axel Gomille
Frederking & Thaler, 2022
ISBN: 9783954162802
192 pages
26,8 x 28,9 cm Hardcover
39,99 €



Wolves - on location with wildlife photographer Axel Gomille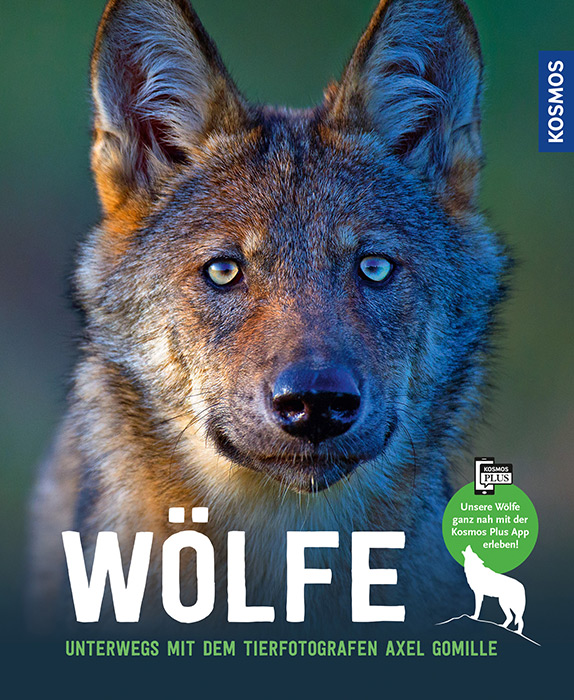 Wolves – on location with wildlife photographer Axel Gomille (only available in German: Wölfe – Unterwegs mit dem Tierfotografen Axel Gomille) Children's book
64 pages, ca. 80 photographs, ca. 22,5 x 27,5 cm, hardcover
ISBN 978-3-440-16987-2
Kosmos publishing company, Stuttgart, Germany, March 2021
€/D 16,00 / €/A 16,50 / sFr 21,50


Boundless Wilderness - Bavarian Forest National Park

Kilian Schönberger, Axel Gomille
Bavarian Forest National Park
Boundless Wilderness
Untamed nature in the heart of Europe
(only available in German: Grenzenlose Wildnis – Nationalpark Bayerischer Wald)
192 pages, ca. 170 photographs., 26,8 x 28,9 cm
Hardcover
ISBN: 978-3-95416-336-6
€ [D] 39,99
€ [A] 41,20
sFr. 52,90
Frederking & Thaler Verlag
September 2020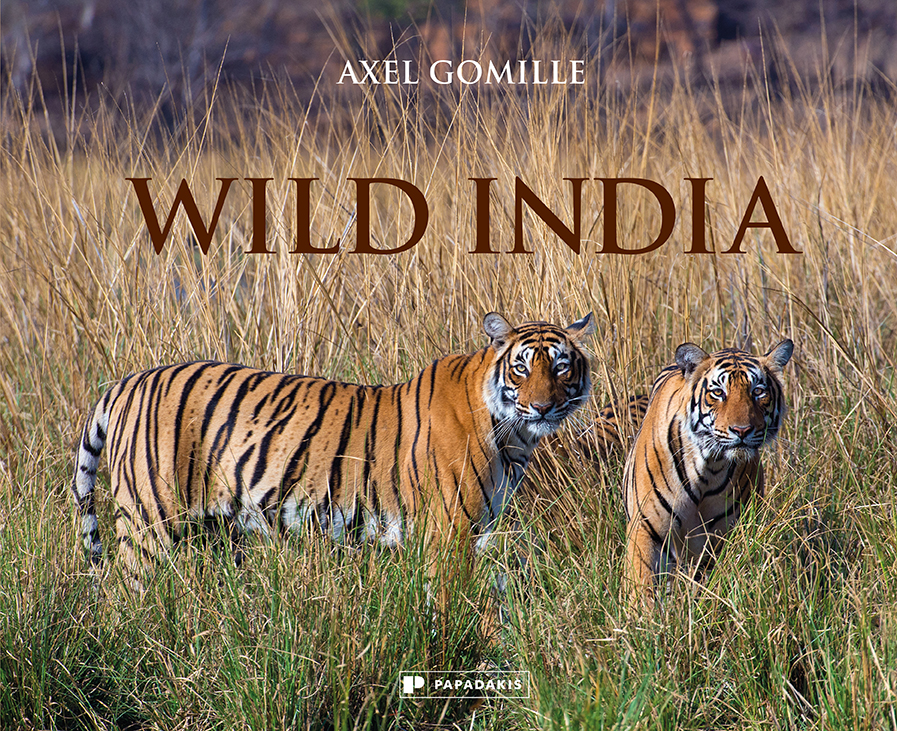 India has one of the highest human populations on earth. Despite this population density, its enormous landmass plays host to a huge diversity of wildlife. Of the world's 37 known species of wild cats, 14 are found in India - more than in any other country. There are about 350 species of mammals, 540 species of reptiles and 1200 species of birds breeding in India. The geography of the Indian subcontinent ranges from the tropical coast of southern India to the northern snow-capped mountains of the Himalayas, and from Thar desert in the west, near the Pakistani border, to the rainforests in the northeast on the border to Myanmar. This variety of habitats has led to an extremely diverse flora and fauna. But how does this diversity survive even today, when it has been lost in so many other places on Earth? The answer lies in the people and how they treat all creatures. Religion also continues to influence how people treat their environment and Hinduism as India's prevalent religion teaches a respect for all forms of life. India is home to the world's largest surviving populations of wild tigers and Indian rhinoceros. If the fate of these endangered species is to be decided somewhere, it will be in Wild India.


Wild India
by Axel Gomille
published by Papadakis, United Kingdom, November 2017
204 pages, 158 photographs
dimensions: 310 x 252 mm (landscape), hardcover with jacket
ISBN-13: 978-1906506636
available in English and Spanish
UK £ 30,-
US $ 50,-
EUR € ca. 33,-

order at BookDepository free delivery worldwide


Watch the book trailer:

Recommended by
Deutschlands Wilde Wölfe / Germany's Wild Wolves
Frederking & Thaler Verlag, Munich,
3rd updated edition, spring 2018
168 pages, ca. 190 photographs, ca. 23 x 27 cm, hardcover
ISBN-13: 978-3-95416-147-8
€ 30,-
order from amazon

India – Land of Tigers and Temples
To venture into the jungle and look a tiger in the eye, to marvel at the fantastic monument of the Taj Mahal, to watch pilgrims bathe in the holy waters of the Ganges – moments like these are among the highlights of travelling through India. In this new pictorial work by Axel Gomille, he portrays the magic of this exotic land: a world of contrasts, of ever-changing colours, exotic scents and unfamiliar sounds, that seduces all of your senses at once.
Axel Gomille is particularly fascinated by the unique connection between nature and culture that is so characteristic of India. Over the past twenty years, he has visited the subcontinent many times to document the rich fauna and its close links to human society. In the jungle he encounters tigers, sloth bears, elephants and many other animals. In the swamps he observes crocodiles and falls under the spell of the exotic birdlife. He visits temples and palaces that recall the splendour of the past and, at a camel fair in the Thar Desert, he is transported back to the Middle Ages. The text and photographs in this book pay homage to one of the most beautiful, most diverse and most interesting countries in the world: India – the Land of Tigers and Temples.

John Beaufoy Publishing Ltd., Oxford UK, November 2014
160 pages, hardcover, 170 photographs
ISBN: 978-1-909612-47-1
Worldwide available, prices vary depending on your country
£24.99 UK
$ 39,95 US
€ ca. 30,- Europe
INR 1,965 India
order from amazon

Indien - Im Land der Tiger und Tempel

Original German version of the book "India – Land of Tigers and Temples" (above).
selected title
German photo book award 2014


recommended by



Indien – Im Land der Tiger und Tempel
Tecklenborg Verlag, Oktober 2012
160 Seiten, ca. 170 lackierte Abbildungen
gebunden, 30 x 24 cm
ISBN: 978-3-939172-92-5
€ 38,50
order from amazon

My Jungle Book
Encounters with India's Wildlife
Experienced, written and photographed by Axel Gomille
Who wouldn't know them? Shere Khan the tiger, Baloo the bear or Hathi and his elephant patrol. The animals of Rudyard Kipling's Jungle Book have enchanted millions around the globe – and continue to do so to this day. It is a modern classic. Axel Gomille, too, has been fascinated by the Jungle Book since his childhood. The magic mixture of wildlife, secretive jungles and lost temples captured his mind.
Years later, as a photographer and biologist, Axel's time has come: finally, he can travel to the land of his dreams and track down the Jungle Book animals. It's the beginning of an adventurous trip on foot, on bicycle, in jeeps and on tame elephants, that lasts for months. In the end, he manages to encounter the wild animals that were the inspiration for the characters in Kipling's tales in the jungle.
But reality is even more exciting than fiction and the famous Disney movie, since India's nature and culture are magically intertwined to this day. The country is enormous – more than 13 times the size of Great Britain with a population of over one billion people. The population density exceeds that of most parts of Europe. But despite the limited space, people manage to coexist with tigers, leopards, Asiatic lions, wolves, elephants, rhinos and many other formidable creatures. Mowgli, the child of the jungle, who knows and appreciates the animals of the forest, exists even today, since the respect for life is deeply ingrained in Indian culture.
"My Jungle Book" tells in extraordinary images and absorbing stories the dream that came true and reveals the true life of the jungle book animals. At the same time it delivers an intimate portrait of exotic India and shows how people continue to live side by side with potentially dangerous wildlife in the 21st century.
Mein Dschungelbuch
Begegnungen mit Indiens wilden Tieren
(only in German)
Kosmos Verlag, Stuttgart 2008
Hardcover, 160 pages, ca. 200 pictures
ISBN: 978-3440112397
(prices vary with retailer)
order from amazon

recommended by




Wonderful World
Adventures with Wild Animals
They still exist – pristine wilderness areas inhabited by awe-inspiring wildlife. Over many years German TV channel ZDF has reported in its renowned documentary series "Wonderful world" about our fascinating natural treasures. This book accompanies wildlife filmmakers during their adventurous and challenging trips around the globe: They search in Alaska for the biggest grizzly bears of the planet, try to track down the mysterious Tasmanian wolf, and locate the last tigers in India. With great effort, they follow pelicans over Africa, trek alongside rare camels in the Andes, and with a special submarine, they even discover coelacanths, the legendary prehistoric fish.
Excellent photographs, vivid texts and thrilling insights in the world of natural history filming make this coffee-table book a great joy for those who like to take a look behind the scenes.
Wunderbare Welt
Abenteuer mit wilden Tieren
Mit Gastbeiträgen renommierter Tierfilmer (only in German)
VGS Verlag, Köln 2004
Hardcover, 160 pages, ca. 200 pictures
ISBN: 978-3802516320
(prices vary with retailer)
order from amazon

The Aesculapian Snake Elaphe longissima
distribution and ecology in central Europe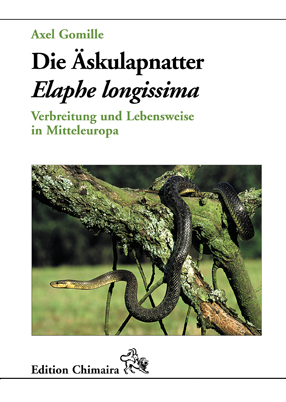 Among the snakes occurring in Germany the aesculapian snake (Elaphe longissima) is the great unknown. This is true in two respects: on the one hand the aesculapian snake is the biggest snake species of central Europe, on the other hand many aspects of its biology and range are not known or remain controversial. Here, the book provides new facts on ecology, distribution and history of this reptile. Some parts of the book are based on a study conducted in one of Germany's isolated populations of the aesculapian snake, the Neckar-Odenwald region. The snake is a forest species and the importance of forest habitat is shown. The still popular theory of an introduction of the aesculapian snake by the Romans is rejected. New fossil and subfossil records north of today's contiguous distribution show that the isolated northern populations of the aesculapian snake are autochthonous relicts of a once wide distribution in central Europe. Sympatric reptile species are also a subject of the study and conservation tools are discussed. With the case of the aesculapian snake in central Europe it is demonstrated how colonisation and extinction of reptiles can occur. The book is not just interesting to snake lovers, since many of the mechanisms shown can generally be applied to other species. Furthermore, this first book on the aesculapian snake contains an extensive bibliography. Although the book is in German, it has a long summary and all captions are written both in German and English. All key results and issues are available in English.
Die Äskulapnatter (Elaphe longissima) -
Verbreitung und Lebensweise in Mitteleuropa
(The asculapian snake Elaphe longissima – distribution and ecology in central Europe)
publisher: Edition Chimaira, Frankfurt am Main 2002
hardcover, 158 pages, ca. 80 photographs and numerous graphs, maps and tables,
ISBN 3-930612-29-1,
price: 27,80 Euro